10 best cafes in Prague, where to study in style
After a few days of studying for my finals, I simply couldn't smell my room, see it and I just could not sit down in there and study. I needed an inspiring environment, preferably full of people who were also studying so I was not alone. This need made me to find interesting places in Prague where you can bring your books and feel good even before a really stressful and important exam. You will ride on high quality coffee and meetings with interesting people.
1. Cafedu
For about a half year, Cafedu is a new study hall cafe, which was founded by PhD student Iva Pejsarová when she returned from a study stay in England, and found out that such a concept for students in Prague is lacking. The cafe is located within a short walk distance from the National Museum so it's not far from several universities in the city. It is interesting that apart from the cafe (coffee, cakes and stationery needs) there are even downright study rooms (with photocopying and wi-fi), where you can even stay overnight, ie 24 hours!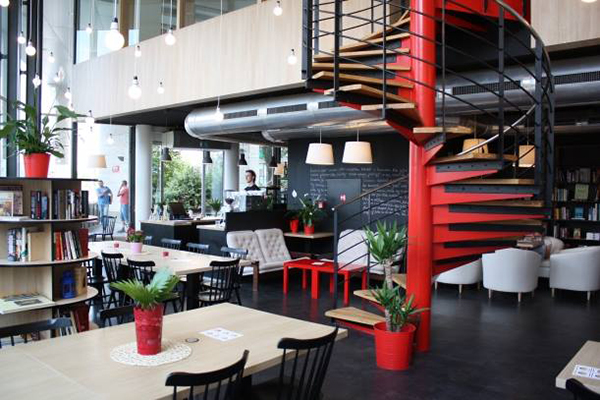 The brand Break & Cake is no stranger at the studying/coffeeing scene. Not far from the University of Economics in Prague's Zizkov, you can have  excellent coffee between classes every day for several years. Since last year's autumn, the second café is to be found also at Albertov so it's also students around this area who can provide their seminar papers and textbooks with coffee scent and cake crumbles.
The surroundings of the National Theatre have always been a bastion of students that has been moving the Czech and world history. The local students (from the Faculty of Social Sciences or perhaps FAMU) have already identified their sacred sites (such as Standard Cafe or Atmosphere, but it wouldn't be for the students of journalism, marketing or political science, if they weren't able to negotiate and to organize a place with a great coffee right in the heart of the gallery Faculty of Social Sciences. Since October, the resident as well as non-resident students can thus study with the right dose of caffeine.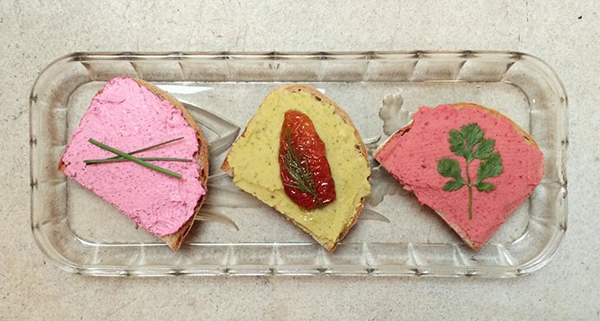 4. Mrtvá Ryba (The Dead Fish)
If you are more of a beer than a coffee person, you can spend hours with books in the court of the Faculty of Sciences, Charles University. It is called The Dead Fish. As weird as it might sound to you, this pub has undergone a complete renovation fairly recently, so the place is cozy, warm and clean. In addition, there are several types of beer, properly chilled wine and lunch menu, which is usually served until late evening, every day. The best fact ever, the entire area is non-smoking. But if you can't survive a day without your cigarette, go enjoy it to the adjacent garden. We recommend coming to study during day hours, since the late hours are always full of loud conversations based nature biology and chemistry.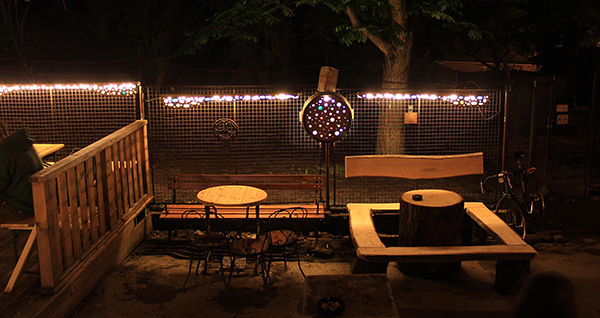 5. Café NONA
Does a buzz around goes well with your studying attempts? Then go to the cafeteria of the New Stage of the National Theatre, take your table by the large windows of the Národní Street and absorb the inspiring atmosphere of Prague. You will meet familiar faces from time to time (residents of the backstage) and you can also search through the present bookshelves for new titles and possibly exchange them for yours. The top of their menu? Home-made lemonades.
"My cup of coffee" is already a longterm shining star among Prague cafés. The café has very inspiring environment and athmosphere and high-quality coffee, served not only as the old-fashioned cappuccino, bu as well as filtered coffee (from chemex). The local staff will always be happy to advise what you to get and explain also how. Get ready for the abundant daily offer of cakes and pastry. You won't be able to resist also to local soups. And soft drinks, too. Well, you will find your regular study supplies here for the entire day.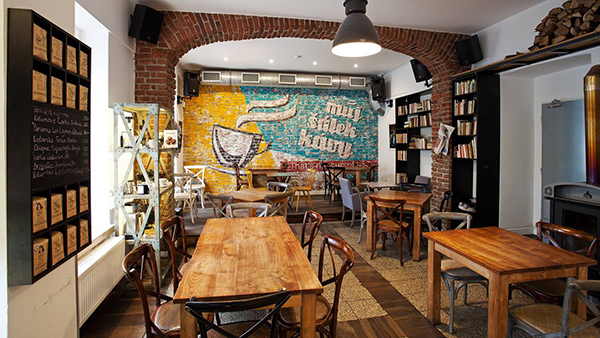 Although the cafe Friends Coffee House is located in one of the streets near Wenceslas Square, you don't have to smash the piggy bank, so you can havea good cup of coffee or high-quality tea. Additionally, you can choose which environment is more enjoyable for you when studying - if rather a large glassed room or a cozy wing chair in the shadows.
The "Parallel polis" is the first only bitcoin venue in Prague. What is it and who have set it up? The project is all work of the artistic and media patched group Ztohoven who decided to make their project as much independent of the state as possible. Even the bartenders's salaries are paid with bitcoins! If you want to have coffee and spend some time here, you will have to exchange money in the local bitcoin ATM. Parelalení Polis is not only a coffee shop, but rather shared office space, where you can arrangea  warm place for learning for a monthly fee.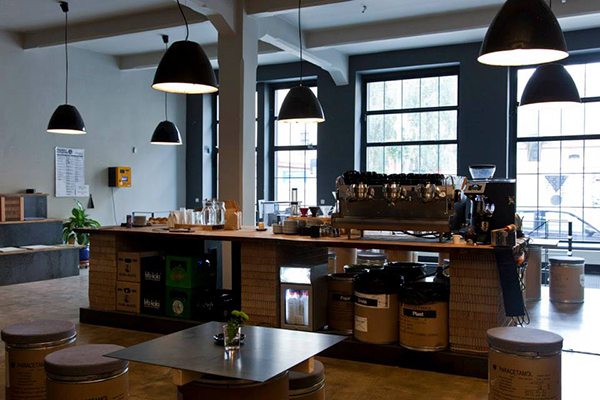 If you don't know about this coffee shop, you will most probably never even notice it. It is hidden on the fourth floor of the building at Jindřišská Street. A few years ago, you even had to know the password to be able to get into the "Reading room" Unijazz at all, but now you can just ring the bell and scramble to the 4th floor. I highly recommend the local pickled hermelín, but just not to talk all the time about food and drinks, I also have to mention how also mentailly is this place fulfilling. Variosu readings, film screenings and discussions take place here very often. And you can choose whether you will sit in the center of the happening, or if you will crawl into the next room and sit quiet between books.
10. Anonymous Coffee
Anonymous Coffee can be found at IP Pavlova, so prices are slightly higher than in other cafés. But it's worth it because this environment is designed to stimulate your mind and creativity while reassuring you. Precisely because such influences has the turquoise color that blends through all local furnishing. Although located on a busy Jugoslávská street, you'll find enough peace here to study for your finals. Especially when you climb to the second floor. Once you have some time off, ask the local baristaa, what the artworks on the walls and the whole concept of the café represents. They'd love to explain you everything.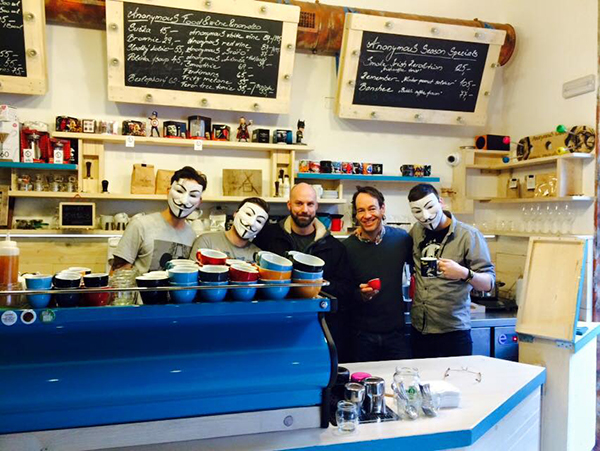 HIGHLIGHT
Do you need heavenly peace when studying? Treat yourself well at Klementinum (The National Library), which is composed of ancient but also modern reading rooms, where hundreds of other students undertake the same misery. It is always better to feel comradeship, ain't it? I personally prefer the General Reading Room, which saved me many times while learning at the last minute. Not only my mum but also hundreds of scholars for several centuries had been doing here exactly the same! In addition to wi-fi connection in the study room you can go through endless numbers of books. Although you can't take any refreshment to the reading room, the door of a typical local buffet is always open. The National Library has laso just recently been chosen as the most beautiful library in the world, according to BoredPanda.com.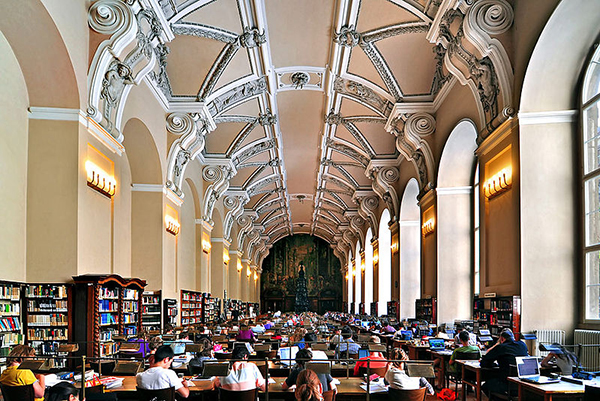 Eva Samšuková