Getting a Czech Phone Number - A look into the best options for Students
Telemovél, celular, téléphone portable, mobiltelefon, cellulare or mobilní telefon… we all need it!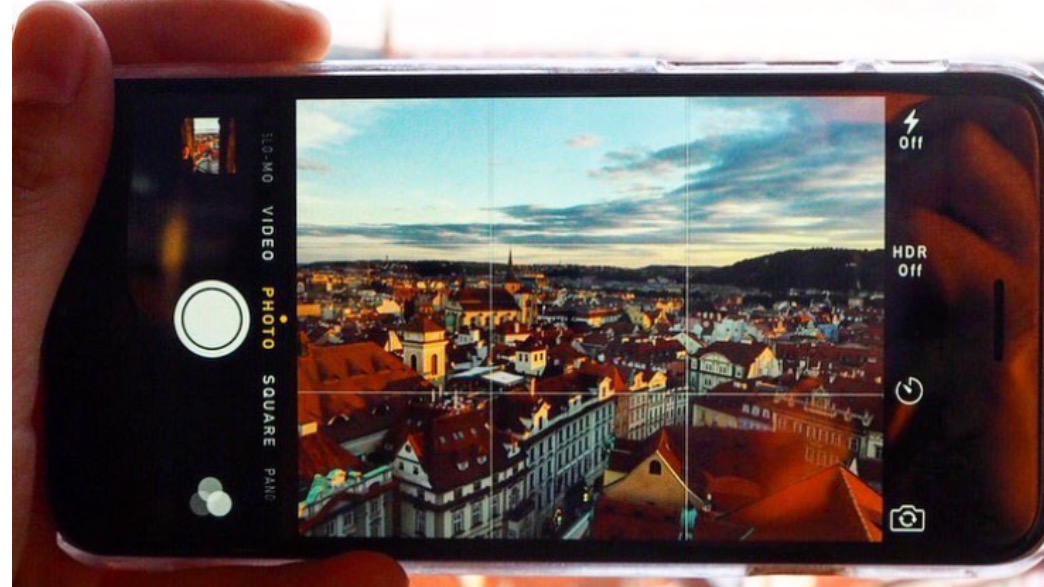 Telemovél, celular, téléphone portable, mobiltelefon, cellulare or mobilní telefon… we all need it!  To avoid roaming charges, which by the way should end within the next two years according to the European Parliament, most of the International students coming to Prague end up buying a Czech Number and here is how you can get one:
Step 1 – Pick up your operator:  
There are three main mobile phone operators in the Czech Republic:  Vodafone (British-owned), O2 (owned by PPF) and T-Mobile (owned by German Deutsche Telekom). All of them offer pre paid option which is nowadays much cheaper in comparison to what it was not so long ago. Since a few years already more than 50 MVNOs (mobile virtual network operator) have as well started to gain popularity. To name few, Coop mobile, Tesco mobile, OpenCall and Sazka mobile are given as examples for good data rates.
Step 2- Get a Simcard or Cheap Phone with one.
Here, you have two options, If you bring an unblocked cell phone you simple need to buy a simcard for it, OR you can simple buy one of the Mobile Operator cheap phones starting from 677 CZK with one of the main operators which already includes a Czech number. 
Step 3- Go get your option: 
If you are not a big fan of shopping malls then Narodni Trida in the city center might be the best location to get a simcard. In a space of 50 meters after Tesco, you will find one store of each of the main three operators with English speaking people able to take care of you.
OUR CHOICES?  
When looking at the offer in the Czech market we found out that O2 and T-Mobile are the less attractive for students. This comes for the fact that both operators require 24 month contract on their "student" tarifts as in other hand, Vodafone doesn't which means that you will most probaly have to stick with one of their prepaid card.
Let's look into the Vodafone student tariff as a first example. Without any contract timeline commitment, it might look a bit over priced at first, but bellow you will find more suitable options that might adjust to your budget.
VODAFONE
With 10 GB of data and unlimited monthly minutes and sms in Czechia, you can enjoy yourself on the phone as long as you feel like. When in roaming inside the EU, Norway, Liechtenstein and Iceland you are already at home, so you are calling and sending SMS unlimited and you may enjoy your entire data package.
In comparison to this offer, neither O2 or T-Mobile has a competitive offer, mostly because of the 24 month commitment in the case of O2, or because the price for calls and data is more expensive in T-Mobile as you can see on the images bellow:
O2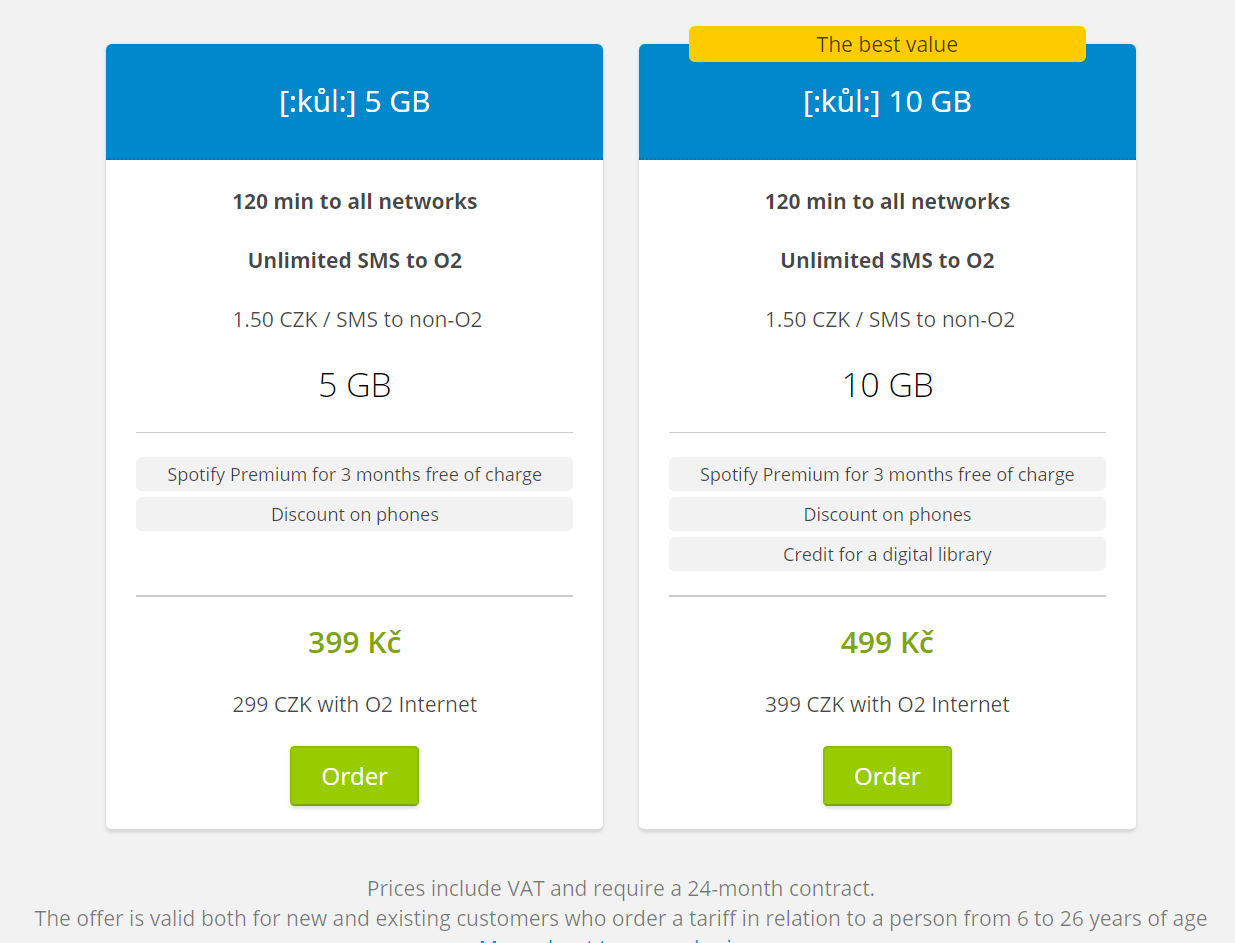 T-Mobile
As for T-Mobile, you can look at the Twist pre-paid as an option if you take the Twist with 4 GB data plan (for first 30 days) costing 399 CZK with 100 Kč credit for calls, but....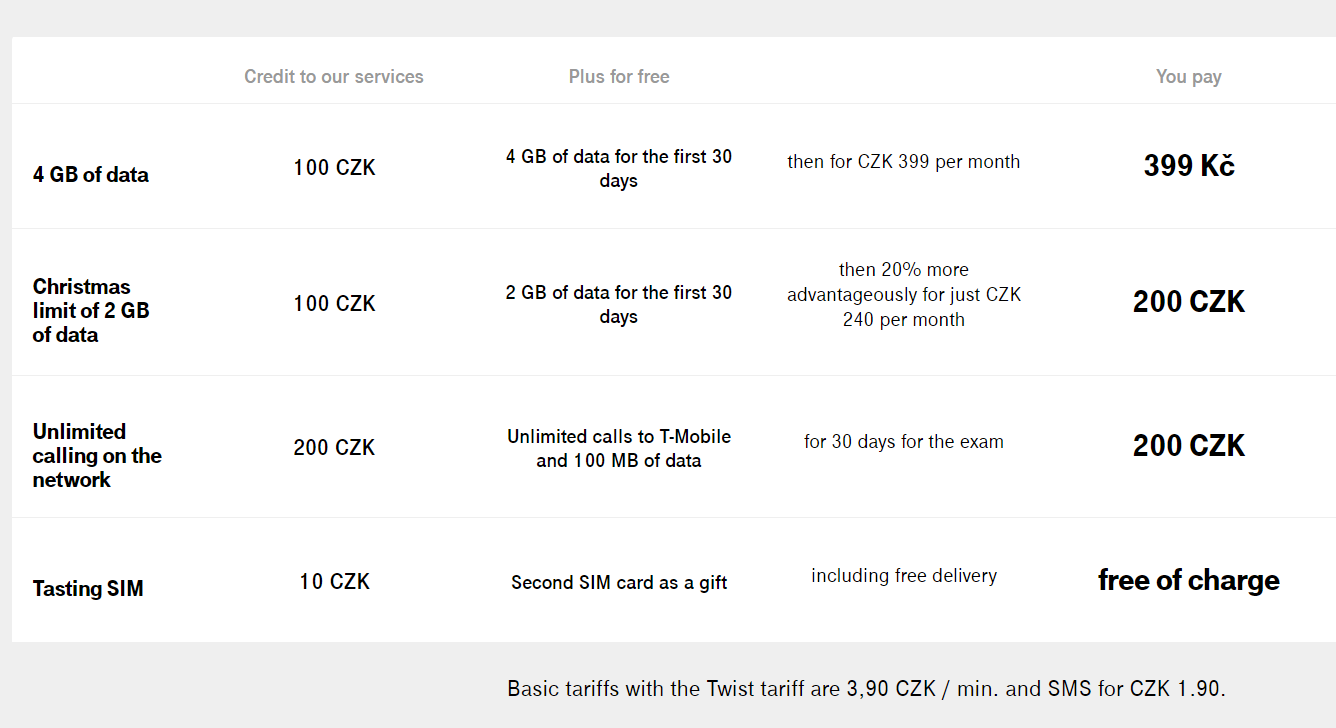 When looking into the other offers with 100 CZK a month at Vodafone you will surf 1,2 GB of data + unlimited sms inside the network, or you can pick unlimted network calling package with 100 minutes to other networks at 149 CZK per month.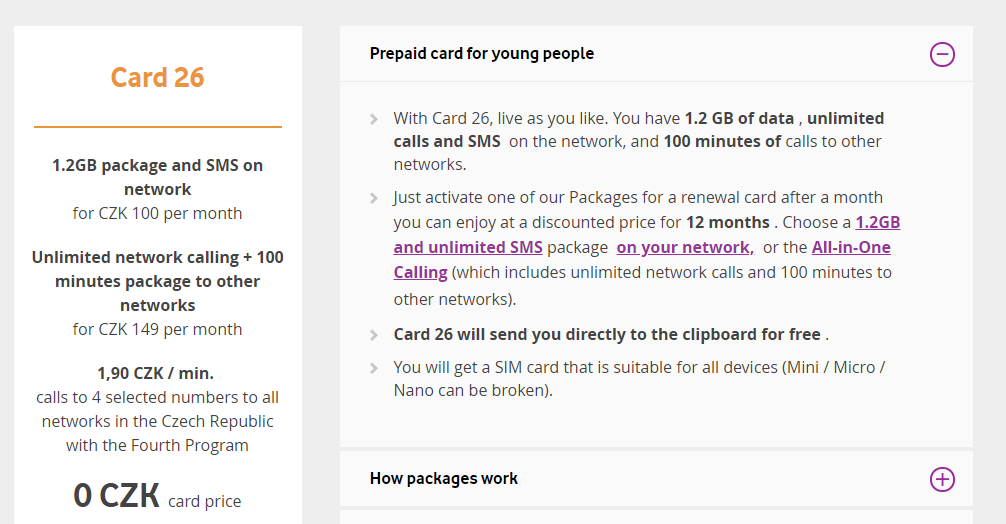 If you do not choose any of the packages, you will be charged according to this price list: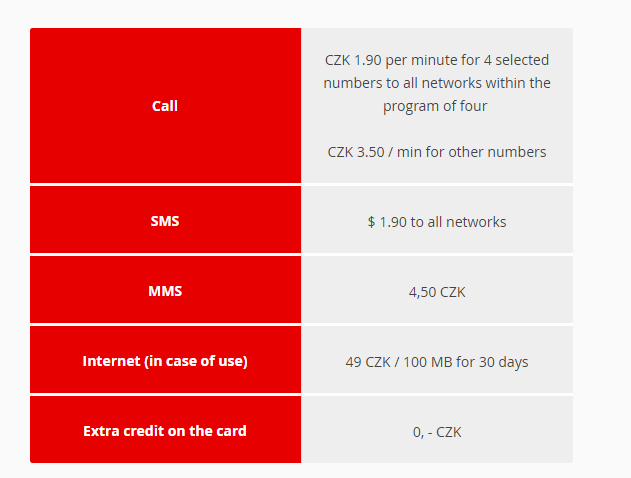 More information in how to activate the packages can be found in here: http://www.vodafone.cz/predplacene-karty/#packages
In case you would like to check the other operators offers by yourself, check the links bellow:
O2: http://www.o2.cz/osobni/tarif-a-mobil-pro-mlade/ 
T-Mobile:  https://www.t-mobile.cz/tarify
Vodafone: http://www.vodafone.cz/tarify/tarif-pro-mlade/
A highlight on this article goes to Open Call which has gained popularity among the expats community in Prague. Known for having the lowest international call rates the prepaid SIM card is available for free online or from retailers all around the country for CZK 200 with an initial credit of CZK 200. Being a virtual mobile operator, to charge your credit you can top up online with credit card, using SAZKA mobile vouchers, at EVA terminals in service stations, Supercash terminals at post offices or by vouchers sold at their retailers. Note that the minimum recharge amount is CZK 200 and the SIM card needs to be loaded at least every six months to stay alive.

We hope this article gives you some help, Happy Calls!