Christmas Markets in Prague
Enjoy the Christmas festivities all across the city
Advent in Prague is a magical time of the year, with Christmas decorations and lights all over the city, the wonderful architecture only adding to the Chrismas charm. Many tourists rush to Prague to experience the unique atmosphere of the so popular Christmas markets and so should you! Christmas markets are held annually all over the city and all sorts of gifts, hearty food and drink are on offer. Most markets are open daily (Christmas Day, Christmas Eve, and New Year's Eve) from 30th November, starting at 9 or 10 amand are a great way to soak up the authentic Christmas spirit. Traditional Christmas markets are an essential part of Prague around Christmas, and as a matter of fact the whole Czech Republic. They magically light up the city, bringing locals and tourists together the share the holiday spirit in a fairy-tale like setting. Set up in rows of brightly decorated wooden huts, the markets offer traditional handcrafted products such as glassware, ceramic mugs, wooden toys, scented candles, puppets, Christmas tree ornaments, and hats, gloves and scarves. However, it's not only all about the shopping – there are musical performances (where you can hear traditional Christmas carols) and a wide range of traditional foods being made right on the spot. You can and should sample some of the local food and drink, such as large roasted hams on spits or traditional Czech pastry 'Trdelník' – a hot, sugar coated pastry.  As for the drinks, during Christmas shopping nothing will warm you up better than a cup of hot wine – in Czech svařené víno or svařák.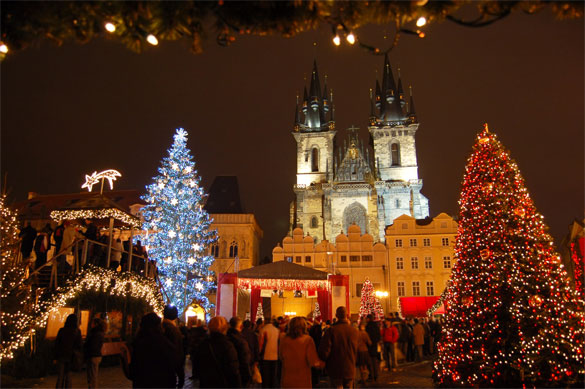 Old Town Square, probably the busiest square in Prague, becomes even more crowded with the most picturesque Christmas market and its beauty is enhanced by a gigantic Christmas tree (shipped in from the Krkonoše mountains) dominating the square. The largest Christmas tree in Prague will be lit for the first time at 5pm on Saturday 30th November and set against the Gothic architecture; it is a truly stunning sight. The market is open from 30th November until 1st January. A large stage offers musical performances plus there is a big nativity scene and the large cabin nearby where children can participate in workshops making decorations and visit the puppet theater. Another highlight is an animal stable, where you can pet sheep, goats and donkeys.
Perhaps not as charming, and yet still magical is the other big Christmas market residing at Wenceslas Square. With plenty of aromas of gingerbread and mulled wine and offer of gifts such as hand-crafted wooden toys and Christmas decorations this is a great spot to hang out on a free afternoon with a steaming cup of svařák or grog in your hand to put you in a Christmas mood. The market is open from 30th November until 12th January.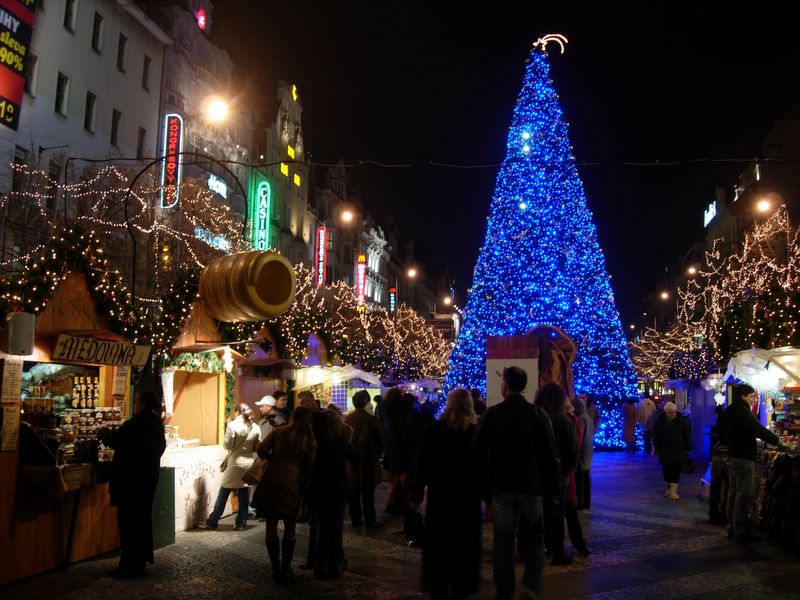 Slightly smaller markets can be found at Náměstí Republiky (in front of the Palladium shopping center), at Náměstí Míru (in Vinohrady), Havel's Market, and at Náměstí Jiřího z Poděbrad. The Christmas market at Náměstí Republiky is divided into two sections, with one focused more on the food and drink and the other on gifts and homemade products. It is open from 30th November to 30th December. Havel or Havelský Market is one of those permanent markets, which at Christmas sells Christmas goods. It is likely that you'll encounter the market anyway since it's located between Wenceslas and Old Town Square. The market at Náměstí Míru boasts and intimate vibe and is quite popular with the locals since it is a little away from the center. With the stunning Gothic Church of St Ludmila along with a huge tree and nativity scene the square is a perfect place to wail away a free afternoon. Náměstí Jiřího z Poděbrad is a site of the Farmer's Market that runs there a few days a week for most of the year and is transformed into a Christmas market in the time of Advent. The place itself if worth a visit, the imposing Church of the Most Sacred Heart of Our Lord dominating the square is one of the most exquisite pieces of modern architecture in Prague. You will appreciate cheaper prices and we highly recommend visiting the church and cruising the Žižkov area, while you're there. The market is open from 1st until 23rd December.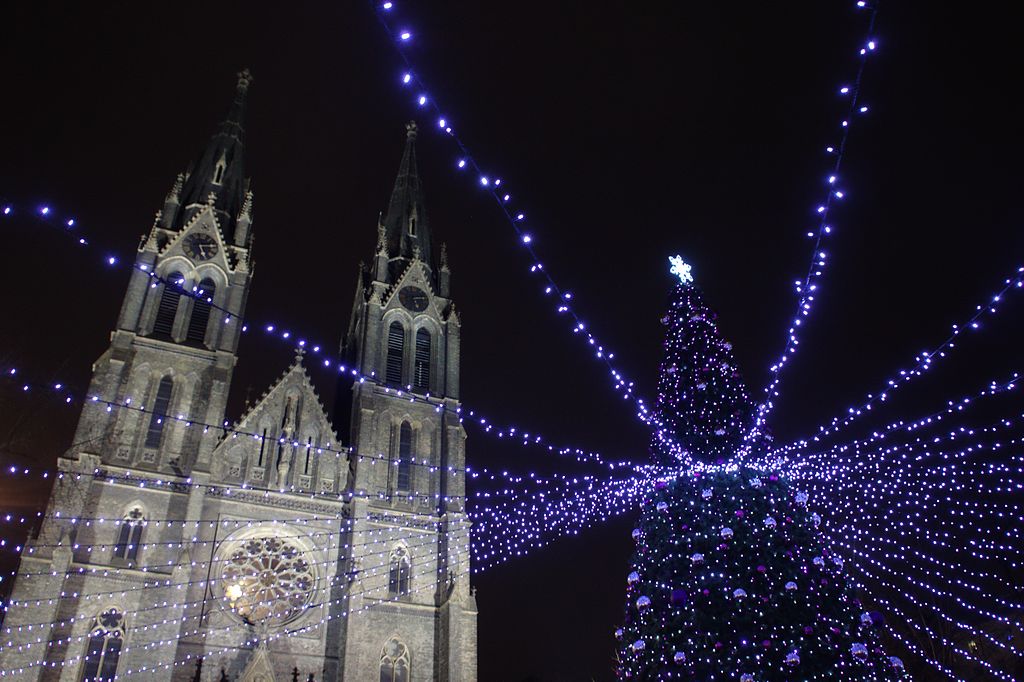 By Vero Arutyunyan
veronika.arutyunyan@gmail.com